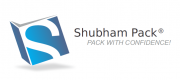 Shubham Flexible Machines Pvt Ltd
Stand number:
E6
Sector:
Food Processing
Company address: PLOT - B-8A, Sector 59 Part -II, Ballabgarh, Faridabad, Haryana 121004
We work collaboratively with forward-thinking companies to find better ways to succeed.
The product range offered by us for various industries including….
Alcohol & Beverages
Food
Household
Hospital Packaging
Medical Devices
Personal & Homecare
Pharmaceutical
Automotive
Oil
When selecting packaging equipment for a packaging project, two of the most important decisions are
* What packaging equipment to buy?

and
* From whom to buy the packaging equipment?
We sell, install and support our packaging equipment properly to make your packaging line perform at the highest efficiency possible. Our services are utilized by many companies globally. We are recognized by many top companies in the packaging industry as leading packaging equipment experts.
Get in touch with Shubham Flexible Machines Pvt Ltd
+91-8130192043, +91-8130192014