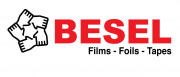 BESEL BASIM SANAYI VE TICARET A.S.
Stand number:
B14
Sector:
Flexible Packaging, Cable Industry ,
Company address: Türkgücü OSB, Yılmaz Alparslan Cad.No:83/87 - Tekirdağ – Çorlu, TURKEY
BESEL GROUP, based in Corlu - Tekirdag /TURKEY, is a leading producer and converter of flexible materials for technical applications since 1975. Films, Foils and Tapes became a passion for us and we process 2.500 tons of these items every month with our staff of 185 people. We have 15.000 sqm production & stock space equipped with latest designs of converting technology, in three individual buildings, designed for optimum safety and hygiene requirements. Our sites are located in 42.000sqm land that will give necessary space for further expansion plans. With our ISO 9001 certified quality system, experienced and skilled staff and energetic management team, working on an integrated ERP system, we try our best to be an ideal partner for our customers.
Get in touch with BESEL BASIM SANAYI VE TICARET A.S.
+902826818540
Press Releases