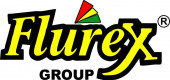 Flurex Tech Ltd
Stand number:
E10
Sector:
Company address: TMC Building, 18, Oregunwa Street, Off Ikosi Road, Oregun, Ikeja - Lagos
Flurex Tech Ltd - a company under the FLUREX GROUP and foremost in coding business in Nigeria for past decades; popularized on-line Inkjet coding with aggressive marketing and technical support of Videojet Coding Machines. Flurex has become a household name in the manufacturing sector in the Nigerian economy.
Under the Flurex Group is Flurex Foods & Bev. Ltd, manufacturer of éllo Water; with skilled workforce, bottling facilities & distribution network poised to satisfying the increasing demand for refreshing water for all purpose & occasions.
Get in touch with Flurex Tech Ltd
0708 861 9706