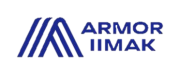 ARMOR-IIMAK
ARMOR-IIMAK, part of the global ARMOR Group, will introduce its range of thermal transfer ribbons to the West African market at PROPAK West Africa in November this year.
ARMOR-IIMAK is the global market leader in the design and production of thermal transfer ribbons for the printing of variable traceability data on labels and flexible packaging.
ARMOR-IIMAK produces jumbo rolls of thermal transfer material from its coating manufacturing facilities in France, China, and the USA, which are then distributed as semi-finished products to Africa, and other regions, where they are converted into printer ribbons to meet local market needs.
The African operations, ARMOR South Africa, based in Johannesburg, and its sister company ARMOR Kenya, situated in Nairobi, service the Southern African and East African markets respectively.
ARMOR-IIMAK's participation at PROPAK West Africa will help them understand the local coding and labelling market, as well as facilitate partnerships with distributors in the region to expand their footprint into West Africa. In addition, by establishing a strong network of distributors, ARMOR-IIMAK will bring their global expertise and well-known range of thermal transfer ribbons closer to the West African market.
With unique expertise developed in ink formulation and coating on ultra-thin films, ARMOR-IIMAK offers the most comprehensive range of thermal transfer ribbons on the market, meeting 99% of marking demands.
The three main categories of thermal transfer ribbons include wax ribbons, wax resin ribbons and resin ribbons. Wax ribbons are used for thermal printing on almost all types of paper labels, and are perfectly suited for printing barcode, product, tracking and identification labels. Wax resin ribbons combine wax and resin based ingredients offering high performance and versatility in terms of usage on all synthetic labels and packaging film substrates. Resin thermal transfer ribbons are designed for the most demanding applications where resistance to mechanical stress, high or low temperature or solvents is required. For more information, contact [email protected]
Printing
Labelling
Packaging
Featured
Exhibitors