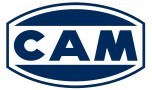 Cam, founded in 1949, has been the first Italian designer of automatic machines for packaging into cartons. Throughout the years, Cam range of machines has expanded and CAM can now supply complete packaging lines for all industrial sectors including Pharmaceutical, Cosmetic and Food. At present, CAM trade mark represents a structure involving 15 Manufacturing Companies, 17 Trade Centers with Agents distributed in 27 countries and 14 After Sales Centers to provide technical assistance throughout the world.
CAM employs more than 700 people, has a turnover of 110 million Euro's per year and sold over 20,000 machines worldwide. Due to over 65 years of experience, CAM is able to supply complete lines of machines with feeding units suitable to handle all types of products, whether liquid or solid, powders, granulates or cream, with standard or special shaped packs.
Such flexibility puts CAM in condition to be capable to meet any requirements of local contractors, multinational companies with facilities in emerging countries such as China, India, Brazil, Middle East and Africa, where CAM has been firmly present for years
Within CAM organisation, Tecnicam is responsible for governing all work phases, starting from the elaboration of offers up to the FAT signature for all CAM machines and lines.
Tecnicam has a dedicated team of 15 project engineers who analyze the customer's requirements, produce quotations, provide any technical/commercial information to customers and resellers, coordinate and liaise with manufacturers involved in the supply, guarantee assistance for customs operations concerning trial-test materials provided by the customers and for export procedures, maintain a work progress status on the machines to ensure full compliance with what stated in Customer's specifications sheet, and also supervise trial tests procedures until Factory Acceptance Test (FAT) is signed.
Furthermore, Tecnicam is also responsible for selling CAM machines to other manufacturers of automatic machines. Other than those functions, Tecnicam is also responsible for the implementation of information material for sale, lay-out of lines and provides assistance to CAM sale network when attending exhibitions and organizing "Open Houses".