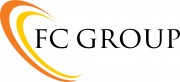 As West Africa's leading supplier of quality new and used print machinery and consumables, we are looking forward to Propak West Africa. Headquartered just outside London in the UK, with offices, service and distribution in Lagos and Accra, we are able to provide you with a comprehensive range of quality pre-press products. Our partnerships with Kodak, Glunz & Jensen, Morgana, Duplo and Kinyo focuses on their wide portfolio of new and innovative products.
For the last 20 years we have grown our infrastructure in the West African market and have a reputation of supplying the highest quality branded products representing some of the world's leading manufacturers. Our on-the-ground service support network in West Africa offers all our clients the security that we will work with them to look after their every need and guarantee continued local support.
The FC Group can provide its customers with technical support in all product areas. We have a Service Department with years of experience and expertise across all products and can offer local support in West Africa. We have full Kodak Accreditation for the support of all Kodak CtP and NX Flexcel solutions. A full after sales service can be offered to customers who purchase new or used equipment from the FC Group.
Printing
Labelling
Plastics
Packaging
Food Processing