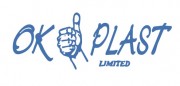 For over 27 Years, OK Plast products
have helped make life a lot more organized and simpler for people in Africa
with manufacturing units in Nigeria, Ivory Coast & Democratic Republic of
Congo. Almost every other household has our products at work and the numbers
are stacking up each day as we add new products to enhance value to our
customer's lives.
Performance and dynamics blend
together to create innovative solutions across a dozen important categories. As
a leading and responsible manufacturer of Kitchenware, Home ware products, PET
Products and Plastic furniture, OK Plast is renowned for its trendsetting and
functional products.
Our Mission is to deliver high
quality products at affordable prices that bring joy and satisfaction to a wide
mass of Africa. OK Plast has been producing and selling the highest quality
products which help build a secure ring of confidence around all aspects of use
of our products.
We are a customer-centric company
deeply focused on the needs of our customers and respond speedily to their
diversified needs. With power packed pricing across categories, it is little wonder
that OK Plast's brands are today the fastest growing and among the most
desirable Brands.
Our Technology
We are equipped with the state of the
art machinery to produce our products to the international standards. Over the
years we have strengthened our position in the industry through the
installation of sophisticated machinery and continuous improvements in
technology.
Our plant is well equipped with the
state of the art equipment. Collectively we focus on pioneering new and
innovative concepts by investing in the latest technologies available.
OK Plast - Our Brand
OK Products are backed by
well-thought out marketing and advertising campaigns based on strategically
sound positioning that have driven the name OK to the tip of every tongue.
Today, OK Plast enjoys very high top-of-mind consumer recall and a prime spot of
consumer mind space. This, coupled with OK's aggressive below-the-line
promotional initiatives, makes sure OK stays the most asked for plastic
products in Nigeria.