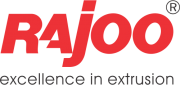 At Rajoo the metamorphosis was quick. It all began in 1986 and the last 32 years have witnessed the transformation of a modest beginning in a relatively unknown town
of Manavadar (Junagadh) in Gujarat to an expansive global footprint with offices in India and overseas with partners world-over. Well-known in global circles as a mature and respected organisation with a zeal for quality, price consciousness and latest in extrusion technology, Rajoo comes with the right blend of experience, expertise & excellence.
'Excellence in Extrusion' is the origin, path and destination- defining solutions offered by the company. Solutions include - the widest range of mono and multilayer blown film lines (up to seven layers), an impressive range of sheet lines (up to five layers), water quenched downward extrusion lines (up to two layers),lines for PE and PS foamed film and sheets (for various standard and special applications) as well as end-to-end thermoforming solutions. Lines for WPC and granulation are the most recent additions to the product portfolio.
Printing
Labelling
Pharmaceuticals
Plastics
Packaging
Food Processing