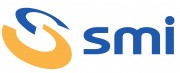 SMI designs and manufactures a wide range of bottling plants and packaging machines able to meet production requirements up to 36,800 bottles/hour and used in countless sectors: food, beverage, household cleaning, personal hygiene, chemical and pharmaceutical industry.
Additional value of the SMI product range is the mark "Made and designed in Italy". In fact, all machines are produced in Italy in the town of San Giovanni Bianco, not far away from Bergamo.
95 % of the production is exported to 130 countries, where SMI operates through an extensive network of branches, agents and resellers, providing customers with technical and sales support.
SMI's target group is extremely wide and varied as ranges from middle-sized bottlers to multinational corporations such as Coca Cola, PepsiCo, Nestlé, Danone, Unilever, AB-Inbev and many more.
The solutions provided by SMI are designed in compliance with Industry 4.0 and IoT (Internet of Things) innovative principles. SMI plants can be considered as real "smart factories" thanks to the technological solutions of the latest generation they are equipped with.
The preliminary phase of every project of a new bottling line consists of an accurate analysis of the customer's needs, coming out of sales and technical meetings between the customer and SMI engineers; subsequently, the processing of a project feasibility study and a customized proposal defining all the details of supply take place. Thanks to this approach, SMI can create turnkey solutions capable of fully meeting the customer's expectations. While designing machines and plants, SMI engineers commit themselves to matching customers' needs through innovative solutions in terms of manufacturing process efficiency, automation of operations, cost reduction and energy saving.
The solutions proposed by SMI are the outcome of a synergistic integration between a 30-year-long expertise in this field and the latest technologies compliant to Industry 4.0 and IoT. This cutting-edge technology permits to collect, analyze and manage through a single control platform the whole of the operating data concerning every machine of the manufacturing plant; the platform provides users with the real time monitoring of the industrial site's efficiency and enables them to remotely alter production flows, streamline resources and sort out problems or breakdowns.