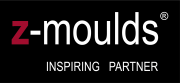 z-moulds® is the market leader in mould performance and stands for high cavity injection moulds especially for closure production systems. With the patented z-slides® technology z-moulds® offers better output per capital compared to common injection and compression moulds. This technology ensures the most efficient production of lightweight closures with the fastest cycle times. z-slides® technology is a compact, full modular system, that operates with less energy and offers a better product lifetime.
z-moulds® also offers a patented z-cube® technology for multi-component (plastic parts with varying materials or colors) injection moulds. With an also full modular solution z-moulds® ensure with its z-cube® moulds an easy accessibility for maintenance and a better flexibility for the machine use than other known technologies for multi-component closures.
From the actual lightest approved CSD closure for Coca Cola to one piece flip-tops produced with an in mould closing technique there are no requirements to demanding.
Products